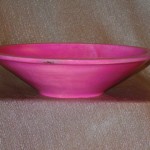 My name is Mike Ilkiw. In 2002 my wife, Connie and I moved to Springfield. Connie was to teach nursing at Cox College and complete her Ph.D. in education, and I took on a variety of jobs.
Handmade Rustic Wood Bowls
I started woodturning several years earlier, but got more involved in it since 2002. I joined the Woodturners of Southwest Missouri, and learned different techniques and methods to further my skill. I enjoy making bowls, as they can be any size and shape. They allow for a free form of expression, that is only governed by the size of the lathe and workpiece.
Reclaimed Trees
There is a sense of instant satisfaction when I can take a piece of recycled tree and make something useful and interesting with it. The wood I use comes from trees in this region. The trees are already down from events such as construction, wind storms, ice storms, age and disease in part of the tree, and so on. I do not cut down standing trees. I recycle the wood that is on the ground and prevent it from going to the landfill.
Breast Cancer Benefits From
Woodturning
Connie was always the first person to see and critique my work. She had a lot of favourite pieces, and would tell me if something needed more work, or some color added. Connie wanted to make her own items on the lathe, but because of life and medical concerns she did not have the chance. In 2007 she was told she had an aggressive type of breast cancer. This was most devastating to both of us. But we realized that we had to work together so she could have some chance of beating this disease. She had a radical mastectomy, several rounds of chemo therapy and radiation therapy. After a year of recovery she was given a clean bill of health. We were elated, and started to live again. In July 2010 she was told the cancer had returned and spread to her liver, bones and abdomen. We were nervous and worried but knew that there was a chance to beat it again. More extensive chemo and in January 2011 the most recent PET scan showed no signs of active tumors. We were on top of the world. Exhausted but on top of the world. We started to make plans for this summer and getting back to living. Connie did not make it. She died 15 April 2011. Her liver had failed, probably from the tumors that had invaded the liver. Even though they were not active in January, they probably did their damage already. I have started to make bowls again, and now I am making BOWLS FOR BREASTS.
Ongoing BCFO Donation
For each bowl that I am able to sell, a generous portion will go to the Breast Cancer Foundation of the Ozarks. This foundation helped us financially the first time Connie's breast cancer showed its nasty head. I will continue this as long as I can. The BCFO needs financial help so they may teach others how to at least do their own breast exam, assist with the expense of mammograms, and help all who are affected by this disease. Eventually the BCFO will not be needed, but til then we all need to participate in the cure and the care.
Mike Ilkiw
Care giver, bowl maker